Last Updated on September 20, 2023
Even the highest quality cat litter can't completely trap odors. Which might leave you at risk of exposure to the harmful ammonia gas present in cat feces and urine.
Prolonged exposure to these odors can result in severe health issues such as pneumonia, bronchitis, or lung damage.
So, it's needless to say, getting a high-quality air purifier for litter box smell is pretty important.
But, how do you choose the best one??
With our expertise in this field, we have huddled a list of highly effective purifiers against litter odor. And if you keep reading, you can learn about what we found after conducting rigorous research on each.
Top Pick: RabbitAir MinusA2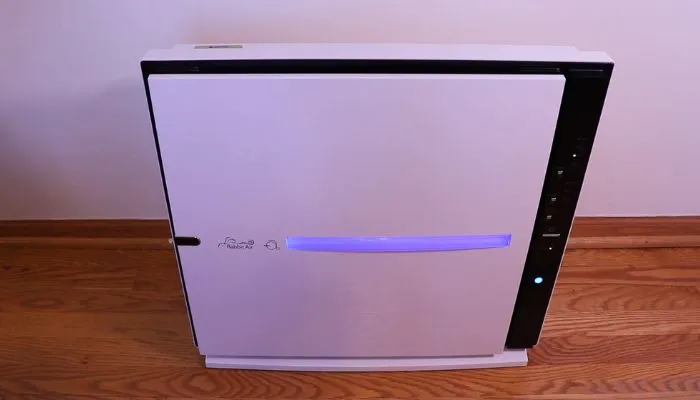 Its odor-specific filtration system and advanced HEPA filter handle pet allergens. Its flexibility for floor or wall mounting and large coverage area of up to 815 sq ft add to its appeal. Despite minor issues with power outage settings and its scheduling mechanism, its performance outweighs these drawbacks. 
Why Do Litter Boxes Smell and Why Should You Worry About It?
Yes, we will get to describing the products we found to be effective against cat litter smell. But before that, you need to get some context on the issue.
What Makes Cat Litter Boxes Smell?
So, cat litter boxes produce a foul smell for several reasons. Here's a brief explanation of each –
1. Concentrated Urine
The urine of cats is comparatively more concentrated than other animals. Therefore, the longer the urine sits, the more intense the smell is.
2. Ammonia Release
Cat feces and urine release ammonia as they sit in the litter. And ammonia has a very strong odor, which not only smells bad but is also harmful to your health.
3. Litter Box Material
The litter box's material contributes to the box's overall smell and surroundings. For example, plastic is extremely porous. It can hold onto smell for a long amount of time.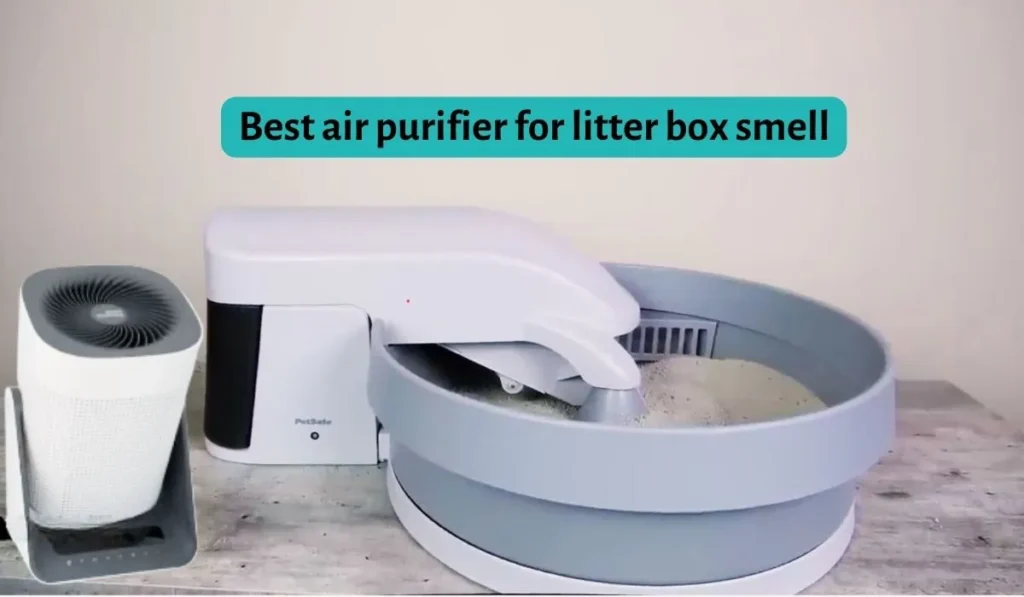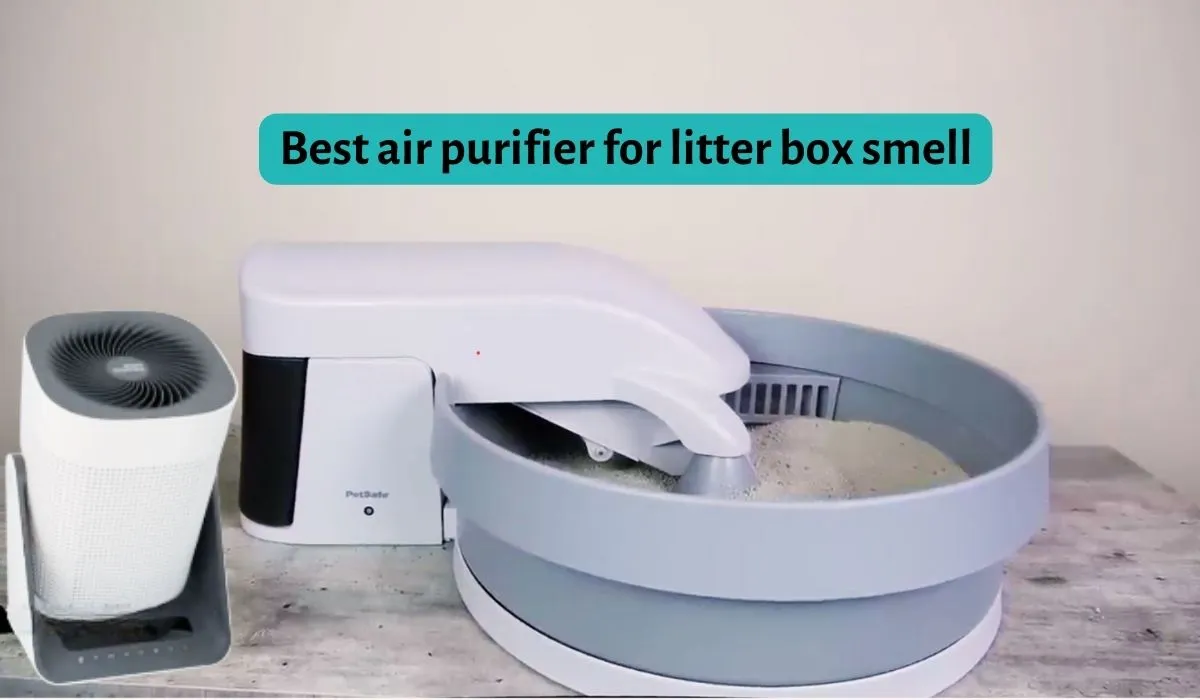 Risks Associated with Cat Litter Box Smell
You should not take the cat litter box smell lightly. It has health risks for both humans and cats. Here's more info about it –
Breathing Issues
Ammonia released from cat litter boxes can cause breathing issues. In fact, it can be responsible for the damage within the lining of the lungs and respiratory tracts.
Cat Illnesses
You may already know cats are very selective about their litter places. So, when they find that the litter box is a mess, they could stop visiting it frequently. That could lead to urinary diseases.
Factors to Consider When Choosing the Best Air Purifier for Litter Box Odor
To get the highest quality air purifier for litter box smell, you must consider a couple of factors. Wondering what they are? Each of them is described below –
Room Size and Air Purifier Coverage
First, measure the litter room's height, length, and width. You will end up with the volume of space by multiplying these numbers. This volume measurement will give you an idea of how much air needs to be purified by the purifier.
Then, you should identify the CADR (Clean Air Delivery Rate). But what exactly does it state?
It tells you about the cleaning capacity of the purifier. When you divide the room's volume by a purifier's CADR, you will get ACH (Air Changes Per Hour).
Experts recommend getting an air purifier that can offer 5 ACH. But as you are dealing with litter smell, it would be a clever idea to get something that's higher.
The Association of Home Appliance Manufacturers (AHAM) provides a suggested CADR rating based on the room size. For cat litter smell, the AHAM suggests the following CADR ratings –
Small rooms (up to 100 square feet): ACR of 40-60
Medium rooms (100-300 square feet): ACR of 60-120
Large rooms (300-500 square feet): ACR of 120-200
These ratings provide a general guideline, but if you have a particularly strong cat litter smell or if anyone in your household is more sensitive to odors.
You may consider selecting an air purifier with a higher CADR rating to ensure more efficient air purification.
Type of Filter
So, air purifiers come with different types of filters. But among all, the units with HEPA (High-Efficiency Particulate Air) filter and activated carbon filter work best for litter smell. Wondering why?
Here are the reasons –
The H13 True HEPA filter can capture 99.97% of particles down to 0.3 microns. That includes virus particles, fungi, and bacteria.
Activated carbon filters can effectively tackle VOCs and odors as they rely on absorption.
Noise Level
Last but not least, you need to consider the noise level of the air purifier. You should generally opt for devices that produce under 60 decibels of sound. After all, cats are sensitive to loud noises.
On the contrary, cats may try to avoid the area if you place a noisy air purifier near their litter box. That's not something that you would want to do, right?
Top 3 Air Purifiers for Litter Box Smell
Our extensive evaluation of the top-rated air purifiers revealed that not all units suit litter box smell. To be exact, only a handful of models excel at the crucial factors described above.
And after conducting a thorough evaluation of each of those products, we have come up with this top 3 list –
1. RabbitAir MinusA2 Ultra Quiet HEPA Air Purifier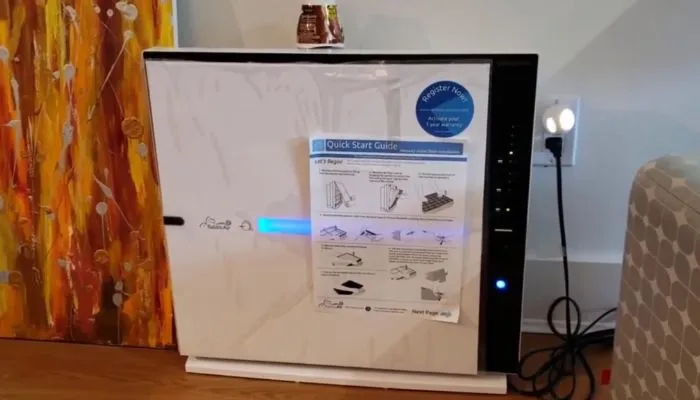 Our thorough assessment of this product has ascertained that it is an excellent pick for litter box smells. In fact, it even comes with a dedicated odor remover customized filter.
Want to know what this customized filter is capable of?
It captures and reduces odors from the air. And it does not matter whether it is a litter box smell. This customized filter can even trap cooking and cigarette smells.
Moreover, the air purifier features an advanced HEPA filtration system. It comprises six stages, which purify the air and deodorize the space. Also, this system can take care of pet dander and pet allergens.
Most importantly, it's easy to set the MinusA2 Ultra. Depending on the litter room, you can make it stand on the floor or mount it to the wall. Also, it can cover up to 815 square feet of space. That's more than enough for the litter room.
Pros
It comes with a customized filter just for odor-cleansing
Has an advanced HEPA filtration unit for air purification
Easy to setup
Can cover up to 815 square feet of area
Capable of purifying pet dander and allergens
Cons
Loses its settings when the power is out
The scheduling mechanism is a little tricky to understand
2. HATHASPACE HSP001 – True HEPA Air Purifier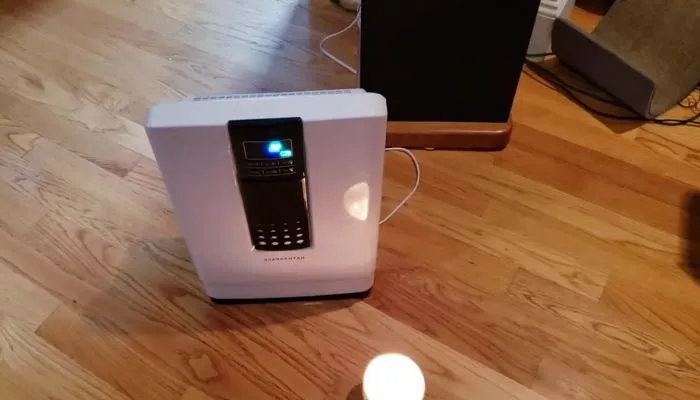 We did an in-depth investigation into the HATHASPCE HSP001. Our profound analysis has led us to ascertain that it is the best smart air purifier you can buy for litter box smell.
But what makes it smart?
There's an AUTO mode, which utilizes advanced sensors to monitor the air. Once the air purifier finishes analyzing the air, it automatically adjusts the fan speed and other settings.
So you will not need to make any manual adjustments. But is that all there's to it?
Not really! The HATHASPACE HSP001 utilizes a True HEPA filter set. It can effectively clear out bacteria, viruses, and pet dander from the air.
In addition, the air purifier comes with an activated carbon filter. So, it can absorb VOCs and odor exceptionally well. It will not fail you at letting you and your cat breathe easier near the litter box. Also, it is whisper quiet and can cover 700 square feet.
Pros
Features H11 True HEPA filter
Has AUTO mode for making changes in real-time
It can clear out bacteria, viruses, and pet dander
Boasts a dedicated activated carbon filter
The operational noise is extremely low
Cons
It is not that effective against dust
Does not have a filter monitor
3. Winix HR900, Ultimate Pet 5 Stage True HEPA Filtration Air Purifier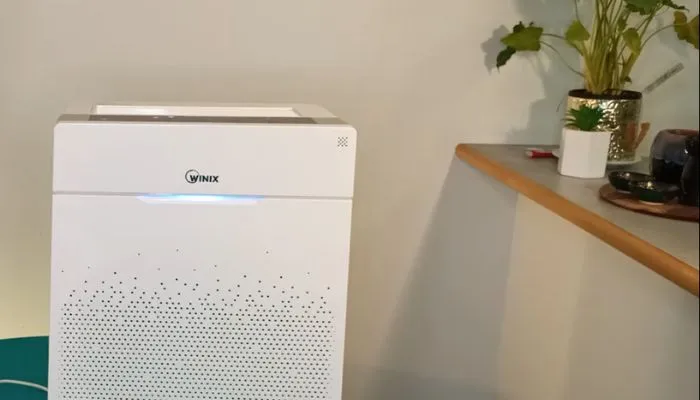 Last but not least, we have the Winix HR900. Even though it is at the bottom of the list, it does not mean it's not a good pick as the top air purifier for litter box odor. To be exact, our thorough assessment has revealed that it is a great budget pick!
Although cheaper than the other products reviewed above, it does not skimp on the purification mechanism.
First of all, it has a pet pre-filter. The air purifier utilizes it as the first line of defense. It clears out the pet hair and dander.
Secondly, it has a True HEPA filter that can trap bacteria, viruses, allergens, and other particulates that are 0.3 microns in size.
Finally, it comes with an odor-control carbon filter. That filter can even take care of the most concentrated litter odor.
That's not all! The Winix HR900 also has Plasma wave technology, which breaks apart odor-causing elements. The purifier can effectively offer a proper solution to litter box smells by breaking them into molecular levels.
Pros
It has a washable, advanced odor-control carbon filter
Comes with a pre-filter to clear out pet dander
Packs a True HEPA filter to cleanse the air
Breaks the odor-causing elements to the molecular level to eliminate them
Pet-friendly and easy to maintain
Cons
The coverage is up to 300 square feet
Known to malfunction and make a weird clicking sound
Comparison of Air Purifier for Litter Box Odor
| | | | |
| --- | --- | --- | --- |
| Factors | RabbitAir MinusA2 Ultra Quiet | HATHASPACE HSP001 | Winix HR900 |
| HEPA Filter | Advanced six-stage system | True HEPA filter | True HEPA filter |
| Odor-specific Filter / Tech | Customized odor-remover filter | Honeycomb-activated carbon filter | Plasma wave technology |
| Coverage | 815 square feet | 700 square feet | 300 square feet |
| Noise Level | 20.8 to 45.6 dB | ~43 dB | ~27 dB |
| CFM Rating | Up to 218 | 94 | 220 |
How to Use an Air Purifier to Get Rid of Litter Box Smell?
So, just getting a good air purifier is not enough. In addition to that, you need to know how to use it to eliminate the smell. And for that, you should keep these factors in mind –
Proper Placement
The first thing that you need to check is the placement. No matter how good the air purifier is at eliminating the smell, it will not work if placed incorrectly.
Now, as your main goal is to lower the smell of the litter, it would be a good idea to place the air purifier around the box. In fact, if the manufacturer says that the air purifier is 100% safe for pets, you can keep it right next to the litter box.
But yes, you should ensure that the air purifier's noise level is not too high. If so, your cats will avoid the litter box as it has something loud next to it. And no matter what, do not block the intake side of the device.
Regular Maintenance and Cleaning
To get the most out of the air purifier, you should regularly maintain and clean it. For maintenance, you must first go through the fine print available in the owner's manual.
Why should you go through that hassle?
The manual will give you a proper idea of the parts that need to be replaced or washed. It will also provide you with information regarding the frequency of replacement.
Stick with what the manufacturer suggests and follow the steps correctly.
In addition, you should regularly check the exterior grills and panels. See whether there is any dust buildup. If found, use a clean cloth to clean them. Alternatively, you can use a vacuum cleaner to clear out the debris.
On that note, when you are cleaning the air purifier, make sure that it is unplugged. Anything can go wrong during the process. Cutting the power out will help you avoid any accidents.
Frequently Asked Questions
1. What is the litter box smell?
Litter box smell is the odor that emanates from cats' litter boxes. The smell can get particularly strong when you let urine and feces settle there for a long time. Basically, in such cases, you will get a strong ammonia odor.
2. Can you put an air purifier next to a litter box?
You can put an air purifier right next to a litter box. You should put the device as close to the litter box as possible. Through that placement, you can eliminate most of the smell from the area.
3. What filter is the most effective for dealing with litter box smell?
HEPA filter, in combination with an activated carbon filter, is best for dealing with litter box smell. These two filters work like a charm in lowering the odor-inducing agents from the air. As a result, the air around the litter box area remains relatively fresh.
4. Is it safe to sleep in the same room as a cat litter box?
You should not sleep in the same room as a cat litter box. Even if you have a dedicated air purifier to eliminate the smell, it's better not to sleep in the room where your cat takes a dump.
Final Words
So, our deep dive into the range of available products revealed that not all the units are a good pick for air purifier litter box smell.
Instead, you should narrow your options and choose between the RabbitAir MinusA2 Ultra Quiet, HATHASPACE HSP001, and Winix HR900. These three have what it takes to purify the air and eliminate the litter box smell.
Now, when it comes to choosing one from these three, first, consider your budget. Next, check whether the coverage of the unit is enough for the litter box room.
Finally, consider the area and see whether the unit's installation and setup process would be correct for your cat litter box area. That's it, thanks for reading.
References
https://atfy.ca/hazards-of-ammonia-from-cat-litter/
https://www.pawtracks.com/cats/dirty-litter-box-dangers/
https://modkat.com/blogs/modkat-purrr/5-risks-of-a-keeping-a-dirty-litter-box
https://pets.webmd.com/cats/controlling-cat-litter-box-odor
https://blog.perromart.com.sg/article/why-does-my-cats-litter-box-smell-so-bad
https://worldanimalfoundation.org/cats/how-to-get-rid-of-cat-litter-smell/